New programs enhance partnerships and engagement
Northwestern Buffett programs enhance partnerships, interdisciplinary collaboration, multilingual dialogue
Our next phase as the Northwestern Roberta Buffett Institute for Global Affairs is more than a name change. With it comes a renewed commitment to our founding mission and strategic direction, and a new model for global collaboration. Now under the Office of the Provost, Northwestern Buffett drives and supports the University's global ambitions to catalyze new ideas that will define our time and to train the next generation of global leaders.
Some of the world's most intractable challenges—migration, poverty, gender violence, access to water, and data governance—are not confined by borders or institutions. Too often, however, research is confined by silos of expertise, geography, culture, and language.
At Northwestern Buffett, we believe it's our role to help break down those silos. To that end, we're rolling out programming that not only supports the University's global vision but also catalyzes interdisciplinary research and engagement in the process.
Partnership Lunches
During the winter and spring quarters, Northwestern Buffett invited faculty to join lunch conversations about building more intensive and lasting partnerships with international universities. Faculty gathered to discuss Northwestern's relationships with: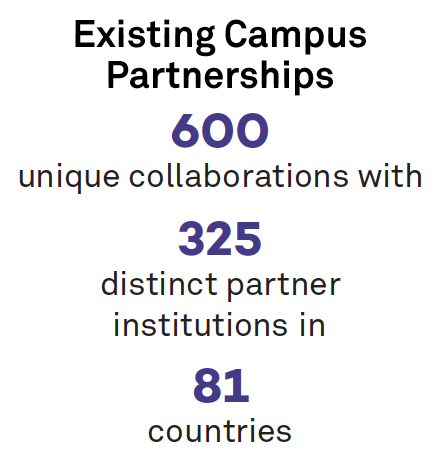 Australian universities

University of Ghana

Southeast Asia universities

Hong Kong universities

Universität Hamburg and Max Planck

Sciences Po and École Normale Supérieure

Tel Aviv University
One more lunch, centered on partnerships with Japanese universities, is scheduled for June 12.
"Annelise had the idea for this early on in her tenure as associate provost as she heard similar stories from faculty doing research in different regions of the world," said Meghan Ozaroski, assistant director, programs and partnerships. "They would tell her of running into their colleagues while flying to their research sites, only learning of their shared interest because they happened to be on the same airplane.
"Northwestern Buffett then began hosting these lunches in order to proactively bring people together and help everyone learn about Northwestern's connections with a given university or region around the world, rather than relying on chance encounters in the sky."
The goal has been to gauge faculty members' interest in bringing together their existing disparate relationships and projects in order to create synergistic, multi-faceted partnerships.
Over the long term, Northwestern Buffett seeks to create a new model of international collaboration, building a global alliance that shares in research, teaching, and global engagement.
Idea Dialogues
Northwestern Buffett is also sponsoring a series of lunch conversations, each dedicated to a global problem. Faculty members pitch ideas, and the Institute helps to convene participants with diverse expertise from around campus. So far, topics have included:
Censorship, Propaganda, and Persecution of Journalists

Sustainable Development

Wicked Problems in National Security

Global Environmental Challenges and Social Justice
To create the most impactful, world-changing ideas, Executive Director Annelise Riles says "scholars need opportunities to engage with disciplines and points of view different from their own at the outset"—and Northwestern Buffett can help provide that diversity of perspective.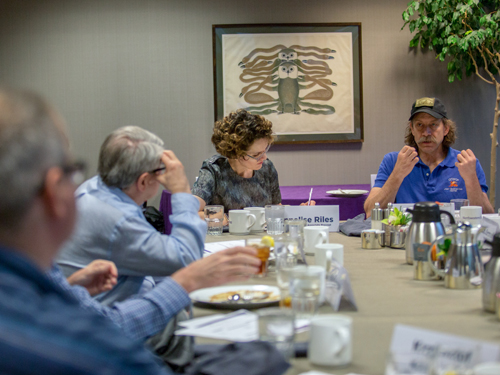 Ian Kelly, ambassador in residence with the international studies program, saw this engagement in action during the Censorship, Propaganda, and Persecution of Journalists lunch in early May.
Before retiring in 2018, Kelly spent much of his career with the State Department dealing with Vladimir Putin's intimidation of the media. He pitched an Idea Dialogue seeking ways to support Russian journalists—many of whom have had to emigrate because of pressure—and Northwestern Buffett helped convene a conversation that included faculty experts from the School of Communication, Department of History, the Pritzker School of Law, Northwestern University-Qatar, and the Medill School of Journalism.
Kelly said that the diversity of expertise at the table helped shape his ideas on where the University's intellectual resources could most effectively help.
"One of the participants from Medill has much experience working directly with regional journalists....Picking up on this idea of grassroots support, a Communication professor noted his success in helping neighborhood organizations produce videos highlighting local concerns.
"It seemed to be that this kind of bottom-up focus, rather trying to compete with state TV at the national level, would be more effective at ensuring regime accountability," Kelly said. "It's also the kind of model that can be applied in other parts of the world, as other faculty noted."
Kelly hopes to create partnerships with other experts and organizations and see the University support a broader forum on the issue.
---
Save the date: Idea Incubation Workshop
Workshops are an opportunity to take risks and engage in purposeful play with scholars and thought leaders beyond our usual community to develop impactful questions for research and ideas for action. Idea Incubation Workshops will draw scholars from across Northwestern, representatives of international partner institutions, practitioners, and subject matter experts from a range of disciplines for intensive working sessions.
Learn more and save the date for our inaugural workshop, November 15-17, 2019.
---
Online Forums
Led by experts from Northwestern and partner universities, as well as practitioners from across sectors, members in the digital forums explore questions around critical risks and opportunities in targeted focus areas. There are more than 1,200 members from around the world, and forum contributions are currently translated into four languages: English, Japanese, Simplified Chinese, and Korean.
There have been four forums so far in 2019, covering topics that range from the conception of 'truth' in democracy to deurbanization, and from data governance to the role of apartment buildings in intercultural interactions.
In these conversations, participants from 23 universities across 12 countries (see below) have engaged in discussions and have determined the next steps in collaborating after the conversation's close.