Roberta Buffett Elliott visits Northwestern Buffett
On May 6, the Northwestern Buffett Institute for Global Affairs' eponymous donor visited campus and heard first-hand how her gift continues to impact faculty, students, and scholars. She also shared her own thoughts on the impact of interdisciplinary work and highlighted the value of collaboration between the social sciences and the performing arts.
The Northwestern Buffett team gathered to welcome Roberta "Bertie" Buffett Elliott (Weinberg 54) and her family to our new collaboration space at 1800 Sherman Avenue. There, Bertie heard how her generosity has impacted several community members. 
Speakers included: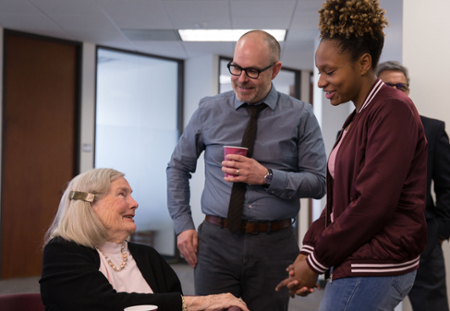 "Meeting Bertie was a great experience," Adams said after the event. "I could feel that Bertie was very interested in learning about all the work that is being done...it is her genuine interest in the world and all of the things that influence it, and wanting to make things better in whatever way she can.
"You can just tell that she is someone that has lived and experienced so much and knows that changes need to be made, and she is using education as the way to do this."
This was Bertie's first visit to campus since Northwestern Buffett announced its commitment to driving and supporting the University's global ambitions.
"It's terrific to have such a vision," Bertie said of Northwestern Buffett's new direction. "And I think it is the way of the future. We exist globally—everything is global today—and universities have to be in that mix.
"[Education] is one of our biggest exports. That's how we can keep ahead—especially when we give people opportunities—so people can keep coming up."