Northwestern Computer Science Student Rawan Mohamed Reflects on Virtual Global Learning
Northwestern Buffett recently sat down with GESI alum Rawan Mohamed (McCormick, '23) to discuss her experiences with the "GESI: Virtual Global Development in Action" program.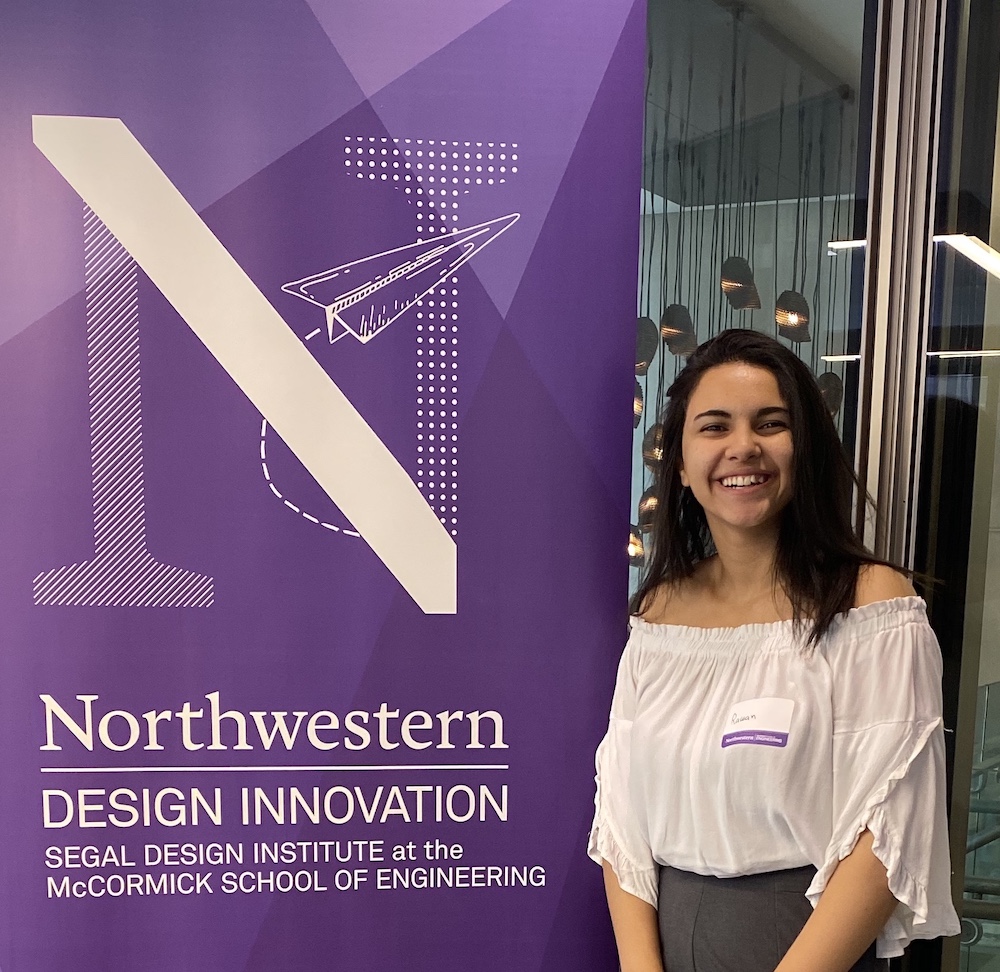 Tell us a little bit about yourself and your time at Northwestern. What made you decide to apply for the virtual Global Engagement Studies Institute (GESI) program?
My name is Rawan, and I'm a second-year student studying computer science and entrepreneurship with an interest in human-computer interaction and human centered design.  I'm also an international student originally from Egypt, where I currently am. I think that coming from a low-income, underrepresented background made me interested in getting involved in the non-profit space, and GESI seemed like a great opportunity to get practical experience in an academic, immersive setting.
Which community-based nonprofit or NGO did you intern for? What sort of work did you do with your host organization?
I interned with an organization called Greenhub in Vietnam, supporting a few different projects that worked on waste management and sustainable community practices.  Some of the work I was involved with included a competitive analysis of other international startups that were doing similar work, as well as identifying what policies and actions are being used in other countries to address plastic pollution. I was also involved with a project that helped increase the marketability of a partner organization that created bags and accessories from recycled plastic, which included helping to redesign their product catalog.  The organization is really interested in growing and expanding internationally, so much of the work was related to achieving that long-term goal.
How would you describe your experience participating in a virtual internship?
There were so many positives, including getting to know people from different cultures and bonding with people who I otherwise would not have necessarily bonded with. I also really liked that the program had these really cool cultural sessions that would teach us about life in Vietnam. I worked on a team with five other interns who were all in different time zones, which did make it hectic and challenging at times, but in a good way. I really felt like those challenges made us step outside of our comfort zones, which was even more fulfilling because we did it together. 
I also just loved the variety of the projects. I knew there would be a lot of work to do, but I really felt like it was benefiting the community and not just something we did for the sake of doing it. There was a very human dimension to the work, and it was a nice shift away from the engineering work I typically do. We knew who we were serving and how it would be beneficial.
Were there any major challenges you faced?
Absolutely. The biggest challenge was that the internet connection is not great where I currently am in Egypt, which did prevent me from being fully present at times. Often, this meant that I wasn't able to attend meetings, so there were times that I felt a little disengaged.  That's all part of the challenge of remote work though.
What was your biggest takeaway from the program?
I think that the program really taught me the importance of cultural humility, particularly when taking on new experiences. I had been involved with nonprofit work before in Egypt, so I arrived with certain expectations and judgements based on those experiences, but GESI turned out to be so different. During those first experiences in Egypt, I was still in high school, so I had less perspective and was really just a volunteer.  I had an incomplete understanding of what nonprofits could really do.  When I started my internship in Vietnam, I was initially skeptical of some of the tasks I was given but, because I was more involved in the process, it really helped me understand what they were trying to accomplish.  Though I didn't get as much direct contact with the leadership of my organization in Vietnam because of the language barrier, it was just so interesting to see how different things were from my experiences in Egypt.
Also, I really thought GESI did a great job tying together the lessons of the coursework with the experiences of the internship. The activities and assignments that we did in class often carried over in concrete ways to the internship and vice versa. Although the exact direction I would like to take my career is still up in the air, I think that the soft skills that I developed, such as learning how to work in a group setting in a virtual environment and developing a deeper sense of empathy, are critical.  I'm really interested in human centered design, and I've thought a lot about how designers are not experts, they are facilitators, and these soft skills really help make me a better designer. I also was able to develop my research and graphic design skills a bit, too.
Would you recommend the virtual GESI program to others?
I definitely recommend it! Even if you don't plan to go into a related field or don't need an internship in an international or immersive environment, you will use the skills you develop through GESI in everyday life.  If you do participate, don't be afraid to be vulnerable in your interactions in the program.  Just be open to learning because, regardless of your previous experiences, it will be something new and different.