Northwestern Buffett Global Working Group Tackling Environmental Challenges in Marginalized Communities
Northwestern Buffett Global Working Group Tackling Environmental Challenges in Marginalized Communities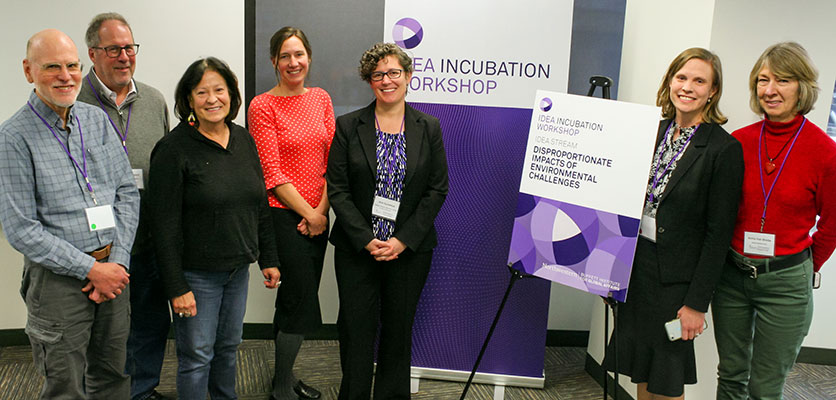 A Global Working Group including researchers from 10 disciplines across eight Northwestern University Schools along with experts from the World Wildlife Fund, Nature Conservancy and Argonne National Lab are working to identify creative approaches to addressing some of the world's most pressing environmental challenges. The group, born out of the Northwestern Roberta Buffett Institute for Global Affairs' Idea Incubation Process and co-led by Northwestern faculty members Jennifer Dunn and Kimberly R. Marion Suiseeya, is exploring how historically marginalized communities can mitigate and adapt to climate change. Their long-term aim is to establish a set of best practices for research that respects and co-develops research with—versus strictly examines—communities, and sheds light on the disproportionate impacts of environmental challenges on frontline environmental justice communities, in particular.
The group is working closely with its partners—which include Indigenous youth, community elders and knowledge keepers, as well as practitioners, scientists and engineers—to co-develop approaches to understanding how communities experience and adapt to environmental change. In working with Indigenous communities, for example, the group approaches scientific questions through traditional ecological knowledge frameworks and listening to communities through interviews and storytelling to understand their climate change experiences and solutions.
"Often, solutions to climate change and other environmental challenges can inadvertently produce new injustices for marginalized communities, so we are excited to have an opportunity for the kind of slow relationship-building that is needed to come together with these community leaders to co-create an ethos for relationship-driven research that not only tackles current injustices and environmental challenges, but creates a new trajectory for environmental research that prevents similar injustices in the future," said Suiseeya.
In collaboration with local Ojibwe community leaders and the Great Lakes Indian Fish and Wildlife Commission, the group recently received funding from the National Science Foundation's Civic Innovation Challenge for their Strengthening Resilience of Ojibwe Nations Across Generations (STRONG) project, aimed at reinforcing the resilience of ten Ojibwe tribes in the Western Great Lakes.  In collaboration with faculty from Northwestern's McCormick School of Engineering and partners at the Argonne National Lab, the group aims to bring environmental sensors to these communities, to monitor climate change indicators—"everything from humidity and temperature levels to the general health of local ecosystems based on foliage," said Dunn. 
Northwestern Assistant Professor of Electrical and Computer Engineering Josiah Hester developed some of the sensors the group plans to use. These sensors can be tailored to measure parameters of interest such as contaminants in water that might come from mining operations or pipeline leakages—two of the primary environmental concerns Ojibwe communities face.
"One of the wonderful things about these sensors is that they don't require batteries or a power source, which is not only important in remote environments, but also avoids the negative impacts of using batteries that may be discarded," said Dunn. 
The group also hopes to work with some of the students and faculty at local tribal colleges to analyze data collected from the sensors. Ultimately, the sensors will support the development of cyber infrastructure that will facilitate Ojibwe communities' access to critical environmental data—data they can use to defend their treaty rights and sovereignty.
"Threats to Ojibwe treaty rights stemming from policy are quite frequent, and tribes don't always have the time to respond and gather enough information to effectively defend their rights in court," said Suiseeya.  The group also plans to work with Ojibwe tribes to develop legal templates specifying environmental monitoring requirements they can use when negotiating contracts for projects that may have environmental impacts, such as pipelines, mining initiatives, and other infrastructure, commercial and industrial projects.
The group hopes their work with Ojibwe communities will demonstrate the value of community-driven research, and that their framework for combining community knowledge and scientific knowledge can be applied in other areas of the world. They plan to partner with communities in Southeast Asia next, though the pandemic and political unrest in the region have made that difficult for the time being. "We really need to be able to go into the field, because these types of relationships can't really be built over Zoom," said Suiseeya.