GlobeMed Sweater Sale Spreads Holiday Cheer
GlobeMed Sweater Sale Spreads Holiday Cheer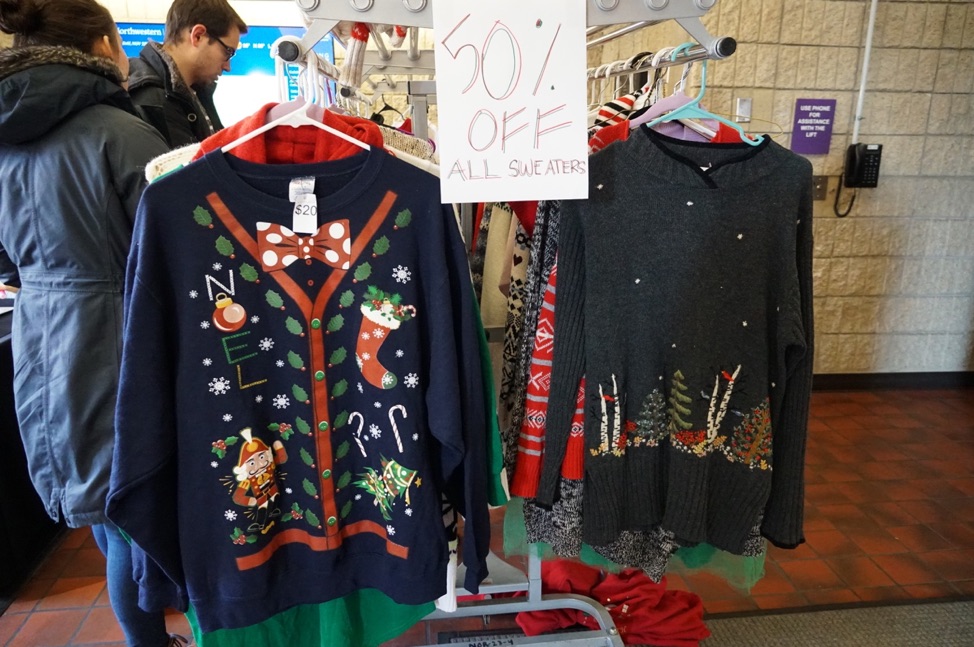 The world needs universities to make bold and ambitious commitments towards addressing global problems. We at Northwestern are excited to play our part, learning from and serving the world. 
In 2006, a group of Northwestern undergraduate students founded GlobeMed to build a model for providing assistance to grassroots health leaders. Today, the organization is represented by 2,000 students on 60 different campuses, raising over two million dollars annually and assisting in hundreds of health projects in poor communities around the world.
Since 2012, the students of GlobeMed's Northwestern chapter have been working with The Adonai Child Development Centre, a Ugandan NGO that cares for children orphaned or abandoned as a result of the HIV/AIDS crisis and civil unrest in Uganda. Although the GlobeMed program hosts small bake sales and other fundraising events throughout the year, by far their most popular is their annual Ugly Sweater Sale that happens before the start of the holiday season.
Ugly Sweaters Help Meet Urgent Needs
The Adonai Centre has facilities to house, educate, and provide medical care to the children it takes in. The purpose of GlobeMed's annual fundraising is mainly to assist the development of the medical program, which is the newest part of the Centre. In addition, every summer students from GlobeMed travel to Uganda to assist in further developing the Centre's medical program and research new opportunities for the Centre's development.
This past summer, funds raised by GlobeMed provided Adonai with an ultrasound machine as well as a backup solar generator for the medical facilities. Beyond financial assistance, Northwestern students assisted Adonai staff with computer training and database management to improve day-to-day operations at the Centre, as well as translation work for a Rotary grant that the Centre wanted to apply for. The work done by the Northwestern GlobeMed chapter also benefits the whole GlobeMed network, as students are able to share their learning among all of the organization's chapters to build the knowledge base around grassroots development.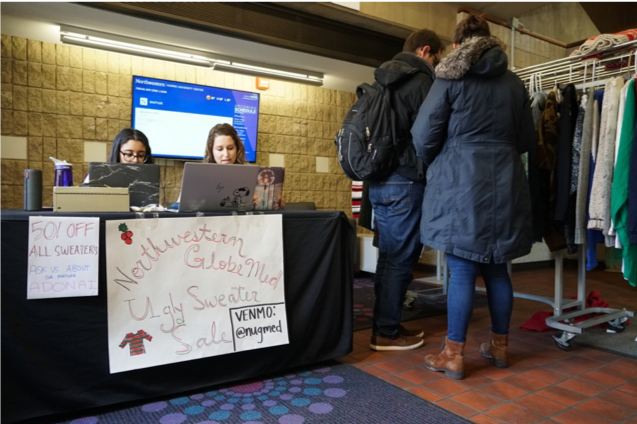 How Can You Say No?  
Weinberg students Emily Kleinbart and Alisha Vohra take money through cash or Venmo as students filing through the Norris lobby look through the sweaters. The group stocks up on hundreds of sweaters throughout the year to sell during the week before Thanksgiving, most of which are $20 and under. By the end of the week, hardly any are left (if at all).
"I think I stand a good chance of winning a sweater contest this year," says one student as she's checking out. Among her three sweaters is one featuring a festive Koala. "How can you say no to that?"
To learn more about GlobeMed at Northwestern, you can visit their website or their Facebook page. To learn more about the Adonai Centre, you can visit their website.