Global Poverty Research Lab offers new opportunities for undergraduates
Global Poverty Research Lab offers new opportunities for undergraduates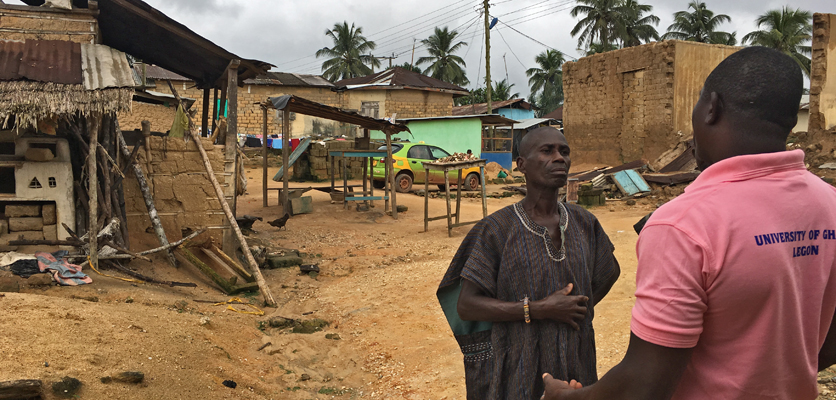 Well into its second year at Northwestern, the Global Poverty Research Lab is increasing opportunities for undergraduates to engage and learn from scholars in the field.
Study Abroad in Ghana
In fall 2018, the Lab added its own study abroad option for undergraduates. Coordinated in partnership with the Undergraduate Learning Abroad, the program is designed for economics majors, who will take classes at the University of Ghana - Legon while also working with faculty on independent research related to development economics.
Lab co-founder and King Professor of Economics Chris Udry will match students with faculty members in-country. Depending on their schedule, students will have the option to complete their research component while in Ghana or back at Northwestern.
The application deadline is February 10. Learn more on the Lab's study abroad page.
Research on Campus
The Lab also employs undergraduates to work as research assistants to help with ongoing research analysis. Often, RAs will write Stata code that allows the research team to analyze large datasets collected from experiments in developing countries.
"What I've liked the most about working at the Lab is how it complements what we learn in our economics classes," says Lab RA and Weinberg senior Javier Madrazo. "In undergrad, I learned theories about poverty and how to fight it. Working at [the Lab], I see how economists actually try to figure out what works and what doesn't. Theories of how the world works are important and so is evaluating them, so it's been great to see both."
More Ways to Get Involved
The Lab has also started an undergraduate lecture series for students who are interested in learning more about development economics and the work of Lab faculty in a more accessible, personalized setting. Speakers include not only Lab-affiliated faculty, grad students, and senior research analysts, but also include speakers from economics, sociology, anthropology, political science, math, and statistics who work on empirical questions related to poverty. 
Upcoming events are posted on the Lab website.