Cuban historian Julio César Guanche Zaldívar to be next Visiting Professor
Cuban historian Julio César Guanche Zaldívar to be next Visiting Professor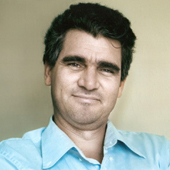 Julio César Guanche Zaldívar, a renowned legal and political historian of modern Cuba, joins the Northwestern community in spring 2019 as the Roberta Buffett Visiting Professor of International Studies.
Guanche's work focuses on republicanism, populism, and constitutional law. In a current project, he is studying the ideas, conflicts, actors, and repertoires of control and contestation that revolve around the pillars of a democratic understanding of republicanism.
He was nominated by Paul Gillingham, associate professor of history and past director of the Weinberg College Latin American & Caribbean Studies Program.
Guanche's work is widely known, having been published in Cuba, Mexico, Spain, Brazil, Argentina, and the United States. He has also taught at universities in Cuba, Ecuador, Spain, and the United States. 
"His scholarly expertise is complemented by experience in policy design," Gillingham said in his nomination letter: He has authored a citizenship report about Cuba for the European Union Global Citizenship Observatory (GLOBALCIT) and wrote the chapter on constitutionalism in Cuba for the Oxford Handbook of Latin American Constitutionalism (forthcoming).
"LACS has organized several important events on Cuba over the last three years, including…guest speakers on Cuban feminism, forced labour, anthropology, Asian diaspora, and contemporary politics," Gillingham said. "The visit of Professor Guanche would be something of a capstone to these events and a source of expert political commentary at the precise moment of a major political transition in Cuba."
Guanche will deliver the Northwestern Buffett Visiting Professor Lecture on May 29.
Spring 2019 courses
"Independence, Social Change and Revolution in Cuba" (History 300-0-34)
This course focuses on the history of the Cuban revolutions (1868, 1895, 1933, and 1959). We will attempt to provide answers to these three main questions: 1) What is the meaning of a revolution for its contemporaries? 2) When do revolutions end? 3) What is left when they fail? The study of the Cuban revolutions will be helpful to understand broader phenomena: how societies change, how they process ideas about nationalism and democracy, and how the fruits of revolutions acquire a particular meaning regarding defining and shaping the future societies. 
"Law, Liberty, and Revolution in the Caribbean" (History 405-0-24)
This course explores, firstly, how non-free persons can gain self-agency through revolutions. Secondly, it investigates diverse uses of the law in the context of freedom: the regulations that slavery established and allowed for, the ones that are prohibited, and the ones it concealed through alibis. Thirdly, it explores the notions of freedom, equality, and race through a comparative perspective by contrasting European and American notions of a revolution with those that Caribbean actors were able to build for themselves in their struggles for emancipation. Finally, the course explores universal uses of freedom while focusing on concrete incarnations of it in the context of equality and race.  
About the Buffett Visiting Professorship in International Studies
Roberta "Bertie" Buffett Elliott endowed the Buffett Visiting Professorship in International Studies, which brings to campus leading scholars from around the world to build international relationships and provide educational opportunities for Northwestern students.