Rachel Riedl named director of the Program of African Studies
Northwestern names Rachel Riedl as the director of the Program of African Studies
Political scientist and associate professor Rachel Beatty Riedl has been appointed as director of the Program of African Studies (PAS) at the Buffett Institute. She succeeds Will Reno (political science), who served as director of PAS from 2012–18.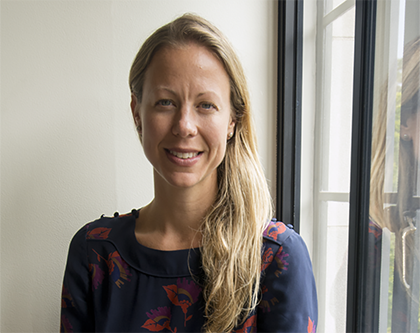 "It's an exciting time to serve as director of PAS, in large part because of the strength and dynamism of our faculty engaged in research pertaining to Africa, the University's global vision, and the program's notable historic and contemporary foundations," says Riedl. "I look forward to working with members of the PAS community in Evanston and Chicago, as well as our alumni and partners around the world."
As PAS director, Riedl will take on a more prominent role in helping carry out the Buffett Institute's mission and vision for global studies at Northwestern.
"I am thrilled to be coming into this position at PAS at the same time that Buffett welcomes their new executive director, Annelise Riles" she says. "We have a shared vision of Northwestern's global engagement, and PAS's deep historical links to African institutions and scholarly networks will provide a strong foundation to build dynamic partnerships in research and education."
Riedl joined Northwestern in 2010 as an assistant professor of political science after a postdoctoral fellowship and PhD at Princeton. In addition to being a former director of Buffett's French Interdisciplinary Group and a member of several Buffett working groups, she is a faculty fellow at the Institute for Policy Research. Before taking on the role of director at PAS, she was on the PAS executive committee, a core PAS faculty member, and served as the faculty coordinator for AfriSem, an interdisciplinary colloquium for Africanist graduate students.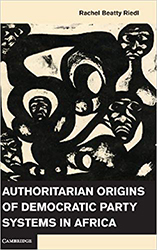 The author of the award-winning Authoritarian Origins of Democratic Party Systems in Africa (Cambridge University Press, 2014), Riedl studies institutional development in new democracies, local governance and decentralization policy, religion and politics, and authoritarian regime legacies, with a regional focus in sub-Saharan Africa. She traces her initial interest in African studies back to her year studying abroad in Senegal as an undergraduate.
"Professor Riedl is a truly remarkable scholar and institutional entrepreneur with an astonishing breadth of geographical and theoretical expertise," says Executive Director Annelise Riles. "I look forward to learning from her, and to collaborating energetically with her and with all of PAS, to develop deep institutional ties to African institutions, to bring fresh ideas and new opportunities for research to our campuses, and to challenge all of us to take on the unique scholarly, political, and cultural challenges of our time."
70 years of African studies at Northwestern
Riedl's appointment comes at an exciting time for the program, which celebrates its 70th anniversary this year.
Founded in 1948 by anthropologist Melville Herskovitz as the first program formally dedicated to African studies in the United States, PAS has achieved international prominence for its innovative scholarship, the training of hundreds of African specialists, and the development of new ways of thinking about the African world.
Seventy years later, the program remains at the forefront, serving as a vital base for the world-class Africanist faculty and students, advancing knowledge of Africa and its diaspora, strengthening Northwestern's involvement in the continent, and promoting cooperative approaches for international understanding.