Global Poverty Research Lab hosts inaugural Rookiefest in development economics
Global Poverty Research Lab hosts inaugural Rookiefest for PhD students in development economics
On May 18 and 19, the Global Poverty Research Lab at the Buffett Institute hosted its first Development Rookiefest. A select group of promising doctoral students in the field of development economics was invited to Northwestern to present their job talk to scholars and faculty within the development community.
The event was originally envisioned by Lab faculty member and Kellogg School of Management professor Nancy Qian.
"Development is a really exciting field that's rapidly growing in terms of the new topics, contexts, and countries that researchers work in and the methods that they use," Qian says. "This is most magnificently displayed in new job market papers, which are simply a great way for Northwestern and Chicago-area faculty, students, and other researchers to learn about the amazing things going on in the field right now.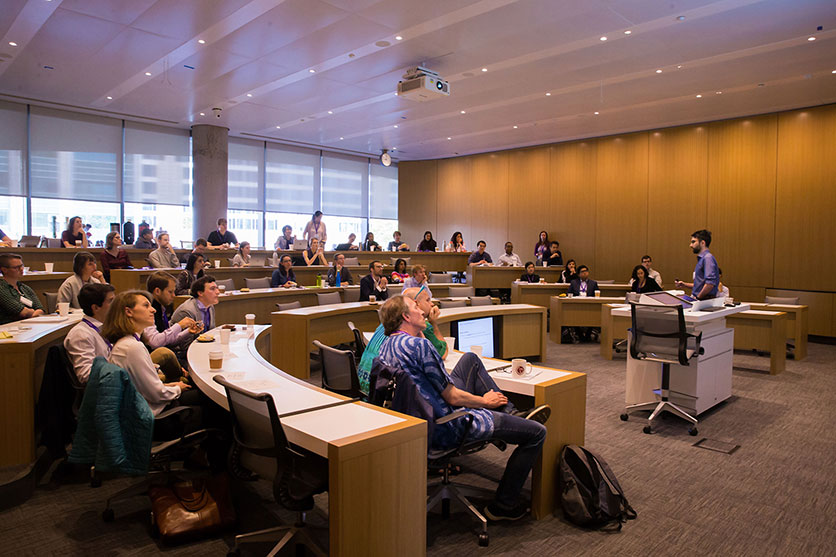 "Getting together is also a fun way for us to build the development community, many of whom are new to the area. Seeing so many smart young researchers eloquently presenting their work shows that understanding the processes of economic development is incredibly important, and yet there is still so much to do!"
About 70 scholars from around the country attended the two-day event. Faculty from the University of Chicago, Michigan State University, University of Illinois (Urbana and Chicago), University of Michigan, Grinnell College, Harvard University, and the University of Wisconsin–Madison were in attendance.
"Before this recent renaissance of development economics at Northwestern, it often felt a bit lonely to work on development in the Midwest," says Laura Schechter, associate professor of economics at the University of Wisconsin. "There are development economists at many universities in this area, but we are spread out over vast spaces and rarely see each other, and if we do, it is often on the West or East Coast. It felt so refreshing to get most Midwestern development economists together under one roof."
Anne Karing, a PhD candidate at the University of California, Berkeley, presented her research paper "Social Signaling and Prosocial Behavior: Experimental Evidence in Community Deworming and Child Immunization."
"It was extremely valuable to present and receive feedback from the Rookiefest audience, who asked very good questions that will help me and others to improve our current research," Karing says. "I was also able to connect with other young development economists, learn about their research in greater depth than most conferences allow for, exchange experiences on challenges we face when conducting field experiments, and brainstorm about new research ideas."
Joshua Dean, who earned his PhD from MIT in June 2018 and presented his research on the relationship between noise pollution, cognitive function, and worker productivity in the developing world, agrees: "It was great to have the opportunity to meet and see the work of so many potential future colleagues and collaborators without the stress of the market hanging over our heads."
According to Lab co-director Chris Udry (economics), Rookiefest was a success "because the papers were superb, and the presenters were in a great moment: looking forward to their first post-PhD jobs and ready to present and discuss their work in an environment full of development economists."
He and Lab co-director Dean Karlan say they plan on continuing the event annually. Learn more about Rookiefest and upcoming Lab activities on the Lab's website.