Five New Northwestern Buffett Research Groups to Collaborate across Disciplines and Sectors to Address Global Challenges
Five New Northwestern Buffett Research Groups to Collaborate across Disciplines and Sectors to Address Global Challenges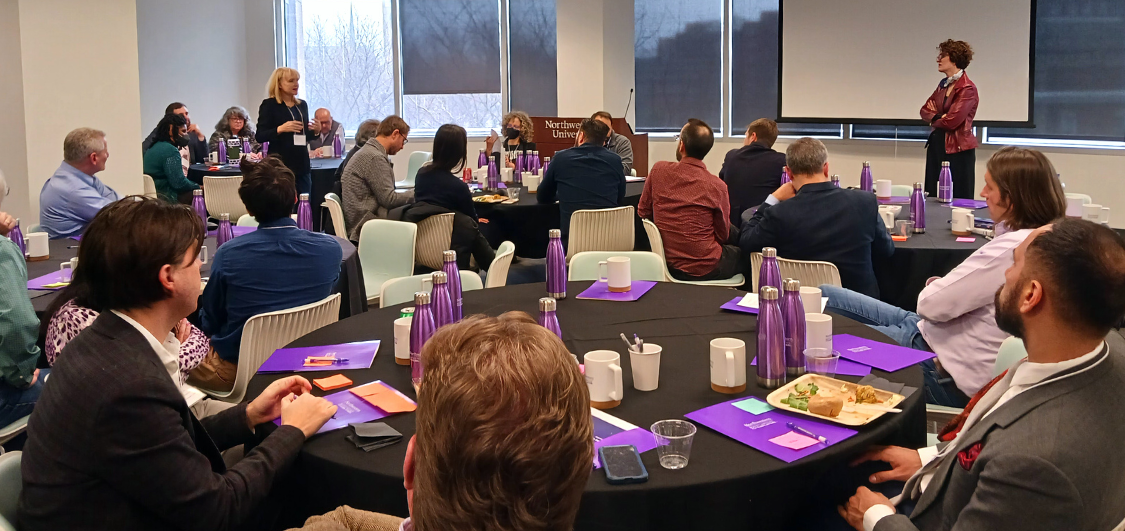 Northwestern faculty convened March 10–12 for the 2023 Idea Incubation Workshop. Water insecurity, gender inequality, the global opioid crisis and reparations for human rights violations were among their research focus areas.


The Northwestern Roberta Buffett Institute for Global Affairs brings together the brightest minds to address critical global challenges that cannot be solved from a singular disciplinary or geographic perspective through its annual Idea Incubation Process. The process offers Northwestern faculty unique opportunities to reach beyond their usual academic communities for interdisciplinary dialogues, uncovering new questions and perspectives that could give rise to international research projects and, ultimately, catalyze collaborative work to achieve United Nations Sustainable Development Goals (UN SDGs) through the formation of Northwestern Buffett Global Working Groups. 
Dialogues sparked through Northwestern Buffett's Idea Incubation Process culminate in an Idea Incubation Workshop—a three-day series of iterative work sessions designed to support generative collaboration resulting in the formation of a research proposal. During the 2023 Idea Incubation Workshop, which took place March 10–12, six groups of Northwestern faculty worked alongside international partners, practitioners and subject matter experts to identify specific global issues around which to center interdisciplinary research proposals, including water insecurity, the global opioid crisis and reparations. At the conclusion of the workshopping process, each Idea Incubation Workshop group pitched their proposals for research action to a selections committee, which assessed proposals based on their scholarly merit, potential for impact, feasibility and global scope.  
This year's selections committee included Ariel Alexovich, Sustainable Development Officer in the United Nations Department of Economic and Social Affairs; Sarah Fodor, Senior Executive Director of Northwestern University's Office of Foundation Relations and Corporate Engagement; Spencer Glendon, a Northwestern alumnus and now Senior Fellow at the Woodwell Climate Research Center as well as Founder of Probable Futures; Maria Haddon, Alderperson for Chicago's 49th Ward and a founding Board Member of the Participatory Budgeting Project and Kimberly Marion Suiseeya, Assistant Professor in the Department of Political Science and Environmental Policy and Culture Program at Northwestern University's Weinberg College of Arts & Sciences. 
The selections committee recommended three proposals for full funding and two for partial funding, which yielded just over $1 million in awards for new Northwestern Buffett working groups. Three groups were awarded $300,000 and administrative support for a two-year period: 
The Epistemic Reparations group will be co-led by Jennifer Lackey and Benjamin Frommer and focus on "creating a more holistic and victim-centered framework for understanding reparations through interdisciplinary research and generating policy changes that recognize victims' 'right to be known' amid growing recognition that existing tools to address gross violations of human rights have not achieved meaningful justice for victims who seek epistemic reparations. 
The Empowering the Next Generation of Global Women Leaders in Universities around the World group will be co-led by Haoqi Zhang and Jennifer Tackett and aims to "contribute to populating the global pipeline of women leaders by developing empirically supported interventions in university-based settings that bolster young women's leadership skills and competencies and foster more equitable aspirations for leadership."
The Making the Water Crisis Visible group will be co-led by Sera Young and Julius Lucks and center on addressing the "major gaps in the measurement and visibility of the underlying issues driving the global water crisis, such as inadequate water infrastructure, demand exceeding supply or institutions failing to balance communities' needs." The group will conduct research in the U.S., Mexico and Kenya, using ethnographies, surveys and biosensors to produce new data on water insecurity and issues of water quality.
Two teams will receive partial funding as Global Catalyst Grant Groups to further develop their ideas: 
The Global Opioid Crisis group, co-led by Lori Post and Maryann Mason, aims to build an active drug surveillance system and drug policy stringency index that deepens understanding of the global opioid crisis, creating a new foundation for effective evaluation and policymaking, as morbidity and mortality from non-medical drug use continues to rise, costing the U.S. alone $1.5 trillion annually.  
The Media Aesthetics group, co-led by Dilip Gaonkar and James J. Hodge, will examine intersections between technology and social life, and how digital media can be harnessed for "resilient self-fashioning, forging communities, imagining sustainable futures and fostering a politics of hope." The group aims to "teach young people how to make sense of their sensual perceptions with contextual and self-awareness" and plans to develop an aesthetic education curriculum focused on advancing global media literacy in the U.S. and beyond. 
Global Working and Catalyst Grant Groups will further develop their projects in collaboration with scholars from other universities, leaders of nongovernmental organizations and others. They will also disseminate their research findings through publications, policy briefs, digital platforms and more to help heighten awareness of the critical global issues they seek to address. Northwestern Buffett will host a public showcase of new working groups' projects and plans this Spring, featuring presentations from the working groups' faculty leaders as well as commentary from the panel of experts on this year's selections committee. The showcase will also offer updates from Northwestern Buffett's existing Global Working Groups.