Global Working Group Spotlight: Gender Justice and Digital Life
Global Working Group Spotlight: Gender Justice and Digital Life
On March 9-11, the Gender Justice and Digital Life Global Working Group will host its Founding Meeting at Northwestern Buffett.
Originally conceived in 2018 at the Meridian 180 Global Summit in Hong Kong, the Working Group seeks to impact social challenges that exist globally at the intersection of technology and gender inequity, by developing an intercultural and interuniversity clearinghouse of resources and tools for addressing gender inequity, harassment, and violence in both digital and physical spaces.
The Founding Meeting is being developed as a partnership between Northwestern Buffett, the Women's Center, and the Office of Equity, in collaboration with Working Group leaders. More than 35 participants, comprised of academics, student activists and nonprofit professionals working on gender related issues, will be onsite to participate in the meeting. Representatives will participate from the University of Tokyo - Japan, UNSW Sydney - Australia, Ewha University - Korea, Universidad de Los Andes - Colombia, and Gadjah Mada University - Indonesia, Chinese University of Hong Kong, and Northwestern University.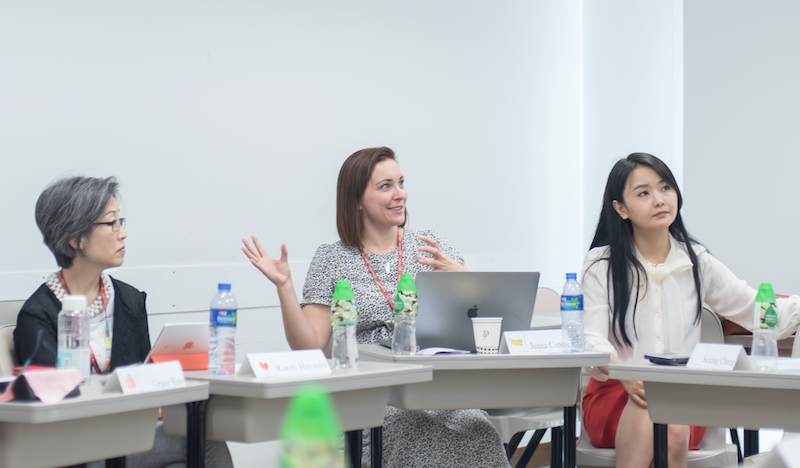 The goal of the meeting is to address questions of sexual violence and harassment both online and on campuses represented, and discuss strategies to tackle these issues with a sustainable, multilateral approach to create a generative digital space to share, produce, and translate resources that support best practices for local and global activists, administrators, and policymakers.
Once planned and developed, this online clearinghouse will provide a digital home for the content produced and procured by the Working Group, and serve as a means of ongoing engagement for faculty, staff, and student leaders on their respective campuses.
"There are plenty of moving pieces to this plan, and the group is still working to identify the best way to integrate a wide spectrum of issues in a cohesive manner," said graduate assistant Jelena Jelušić, who supports the Working Group. "The sheer magnitude of the subject matter, combined with the sensitivity and intercultural nature of the dialogue are core considerations.
"The reality of gender inequities can vary considerably in different contexts, and the group is mindful that the content procured or developed for the online clearinghouse must be diverse — broad and adaptable enough to be useful in contexts where little gender-related discourse exists, and nuanced enough to include voices from a spectrum of identities and experiences often underrepresented even in places where direct dialogue on with these issues exists.
"In addition, while the group primarily focuses on sexual harassment in the digital realm, too often gender-based harassment and violence carries over into physical spaces, and understanding and addressing the complex interplay between technology and gender-based inequity both on and off line is essential to their work."
The Founding Meeting is the catalyst for deepening global relationships and planning for an indispensable resource for academics, students, activists, and other professionals. Over a 2+ year period, the group will establish an active international community that promotes, educates, and widely offers adaptable and culturally sensitive resources on gender-equitable technology and practices to reduce gender-based inequity, harassment, and abuse online.