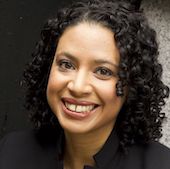 Masi Asare
School of Communication
This international visitor grant was awarded to Masi Asare, an assistant professor of theatre and performance studies, in order to facilitate a virtual campus visit by Vishal Bhardwaj.
Vishal Bhardwaj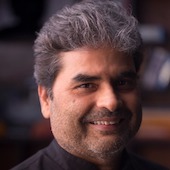 Bhardwaj is a major figure in Bollywood and the arts and culture sector in India more broadly. A film director, screenwriter and producer, his creative expertise also extends to work as a music composer and vocalist creating evocative scores for his own films as well as those of other leading artists, and for the theatre. Bhardwaj has directed 10 feature films, produced five, and composed music for more than 40. With a string of box office hits to his name, his work has achieved broad popular and commercial success as well as critical plaudits. A consummate artist-intellectual, Bhardwaj is known for adapting literary works into unexpected social and linguistic contexts, displaying a unique finesse with local dialects in his screenplays. He is the composer of the stage musical of Mira Nair's "Monsoon Wedding," with lyrics by Masi Asare, slated to tour India, Dubai, Singapore and London when theatres reopen.
Bhardwaj's visit was organized in consultation with faculty across multiple academic disciplines at Northwestern. This virtual visit enabled Bhardwaj to connect with students and faculty in the departments of theatre, radio/television/film, and Asian languages and cultures in the spring of 2021. The visit included three major components: A musical theatre master class, where students performed songs from "Monsoon Wedding" composed by Bhardwaj and received direct feedback and coaching; individual virtual classroom visits with courses that engaged with topics related to South Asian arts and culture; and finally, a film screening and public Q&A, which included a panel of Northwestern faculty who responded to the film and engaged in dialogue with the filmmaker.