Idea Dialogues
Northwestern Buffett's Idea Incubation Process begins with Idea Dialogues that bring together Northwestern faculty from across disciplines and schools for informal conversations about a research question or topic of global significance. Dialogues may be held in-person, virtually, or in hybrid format. The hope is that these discussions will uncover new questions and perspectives that could give rise to international research projects and, ultimately, catalyze collaborative work to achieve United Nations Sustainable Development Goals.
Northwestern Buffett staff members handle the logistics associated with setting up and facilitating Idea Dialogues, in consultation with the faculty members who propose them.
Take a look at the set of global issues our Idea Dialogues to date have covered, and submit an Idea Dialogue proposal via this form.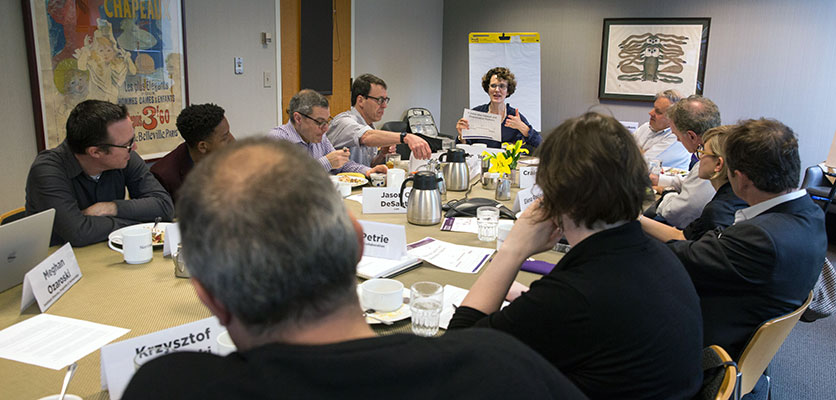 Idea Dialogue - Persecution of Journalists
Frequently Asked Questions
Why should I submit an Idea Dialogue proposal?
Idea Dialogues provide a unique opportunity for you to feel out early-stage or nascent ideas with no stakes other than an enjoyable chat with colleagues over a meal. We encourage you to propose a new idea simply to initiate an exploratory conversation with faculty beyond your field or school, who are invested in similar questions and who will likely bring to bear different perspectives on your suggested topic.
What happens after an Idea Dialogue takes place?
Typically, Idea Dialogues result in one of three outcomes:
Idea Dialogues that participants deem ready for deeper cogitation and research project development can move onto the next Idea Incubation Workshop.
Idea Dialogues that participants determine need more reflection and discussion can convene another Northwestern Buffett-supported Idea Dialogue, albeit with a differently articulated question and/or additional faculty or experts.
Idea Dialogues may result in new one-on-one collaborations; spark ideas for individual researchers that lead to future outputs; or provide a starting point for a group of faculty to pursue alternative avenues to advance the topic (e.g., grant proposals).
What are examples of topics that past Idea Dialogues addressed?
Below are previous Idea Dialogues topics and their key questions. Highlighted topics took part in our 2019 Idea Incubation Workshop. The Environment and Social Justice group was the first Winning Idea Incubation Workshop group and now exists as the Disproportionate Impacts of Environmental Challenges Working Group.
Wicked national security: What are today's new forms of extra-national security threats (e.g. cyberattacks), and how might scholars and military experts alike better understand them in order to address them?

Persecution of journalists: In what ways can we support journalists facing censorship and persecution in different regions around the world?

Sustainable development: What are the benefits, disadvantages, and potential barriers universities face in joining the UN's Sustainable Development Solutions Network?

Precision pharmacosurveillance: How might we harness supply chains and logistics teams to tackle the global health problem of substandard and/or falsified medicines?

Environment and social justice: How can we engage marginalized communities that are disproportionately affected by climate change in seeking responses to it?

Citizenship and rights: To what extent and in what ways do differing definitions of citizenship relate to or shape the rights and benefits of citizenship?

Palliative care in humanitarian crises: How can we train and empower palliative care workers operating in disaster-affected communities?
More questions?
For more information, please see the Frequently Asked Questions on Northwestern Buffett's Idea Incubation Process.
If you have any additional questions about Idea Dialogues or want to discuss a potential topic before submitting a proposal, please reach out to buffettdirector@northwestern.edu.